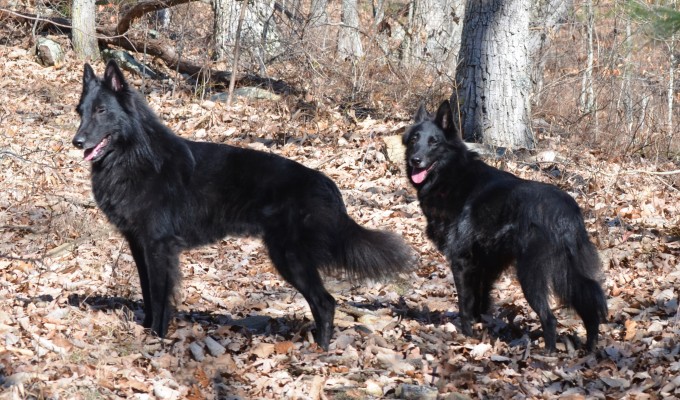 Bo and Sassy are Belgian Sheepdogs (Groenendael), Bo is five years old and Sassy is seven. We first got Bo when he was just 8 weeks old. I had a Belgian when I lived in NYC and I always wanted another one. Sassy came to us about three years ago. The breeder, Moshe from Black Gold Belgians, called one day and told us that Sassy's owner had passed away and he wanted to place her in a good home. At the time, I had been half-joking about wanting another Belgian and he thought of us first.
Bo and Sassy are like night and day though. If there's thunder and rain outside, Bo wants to go out to find where the noise is coming from and to play in the rain. So we go! Sassy, on the other hand, she just wants to stay inside and doesn't want to hear the noise. There is nothing that Bo likes more than chasing a ball in the river. It took almost a year just to get Sassy to feel comfortable going into the water. But they get along great together and, coincidentally, Sassy is Bo's aunt . . . and such a lady. Aunt Sassy!
It is a wonderful breed, very intelligent, active, and loyal. Not a breed for the faint of heart. You need to be able to devote plenty of time, energy, and love to own one of these dogs. They are wonderful friends, with great work ethics and always needing to have a job to do. If I'm working outside, I'll give Bo tools to carry for me or if I drop something, he'll pick it up and bring it to me . . . and he learns something new everyday. He's very driven and always on the go, and Sassy is so much more laid-back. But on the property, both Bo and Sassy are so cautious of strangers and very protective, and they both have bonded deeply to "their people". My wife says Bo is too dependent on me . . . I say we're just "best buddies".
And Bo loves to take me kayaking!
Bo kayaking with dad
Stay tuned, more to come . . .